Traseal RS Mini
Traseal RS Mini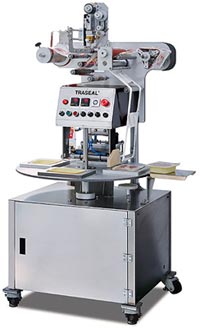 Semi-automatic container sealing machine RS Mini by the South Korean company Traseal is probably the modern industry's best offer.
The key advantage of the sealing machine is a rotary working table, which significantly affects the productivity of the sealing machine. Due to its flexibility, the machine can be used in the most unpredictable working conditions, such as the absence of planned tasks for packaging products, the use of unexpected sizes and shapes of products. In addition, the device is easy to move. The main components of the device are made of stainless steel, aluminum and other materials that are not subject to corrosion, which allows maintaining considerable cleanliness of production.
Available options:
Various marking devices;
Automatic filling of container with a product;
Possibility of using Modified Gas Atmosphere;
Foil trimming along the contour of the container;
Unloading onto a subsequent conveyor, etc.

Main characteristic:
Container dimensions

(L

× W)
Any
Performance
15 cycles/min.
12 cycles/min. when using gas
Compressed air
6 atm.
Body material
Stainless steel
Supply voltage
220 В
Automatic temperature control
Date printer
The control device of the pressure welding plate
Possibility of using films with printing
You can view the video on how the device works: